I arrived in Hong Kong Airport some time between four and five in the morning, on August 18, 2006. I was drained from the flight: other than getting lucky with an episode of Ali G and Little Britain, it was hours of boring movies, crap food, cramped legs, and restless sleep. I stumbled out of the plane, learned that all my luggage had been lost, and realized that I didn't even take cash out back in the states. I barely had enough change to buy the train fare.
China, I have triumphantly returned!
I drifted on to the train (the Airport Express, a ride that takes you from the massive airport to the heart of Hong Kong in a mere twenty minutes), exhaustion tempered by the excitement of being in Hong Kong. We shot through Yung Yi, then Kowloon, and finally came to a stop in central Hong Kong. I left the station to grab a cab, and asked the driver – foolishly, and in poor Mandarin - "Ni hui shou Yingyu ma?" or "Can you speak English?" For one, my Mandarin was insultingly off-tone; secondly, they speak Cantonese in Hong Kong, not Mandarin (thus limiting what little communication I am capable of outside of English to ordering "two beers, please" in Spanish and saying "asshole" in German and Greek). Finally, I just handed the poor guy the directions – both in Chinese and English – and he seemed to know where to go just fine.
It was a strange cab ride: the haze of a million city cityscapes lifting away to reveal the alien topography and brilliantly new and (post?)modern architecture of Hong Kong. Everything seemed to float by in the early morning sun, specters that only hinted at the new world I was entering. I snapped a few pictures and took some video in the cab, but I mostly just sat there, collapsed into autopilot from the fatigue, staring and clicking at the sights like a sedated robot.
I was certain that we were lost, that this asshole cab driver was trying to swindle me, this innocent and pure young American, who clearly didn't know his way around Hong Kong. And then I saw the Maryknoll gates, after only a 30 minute ride (I was told it could take up to 45). Sorry, cabbie.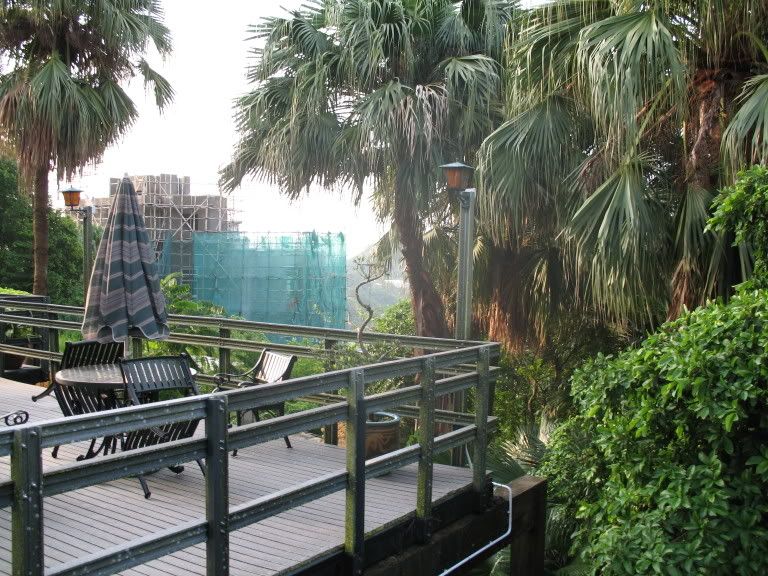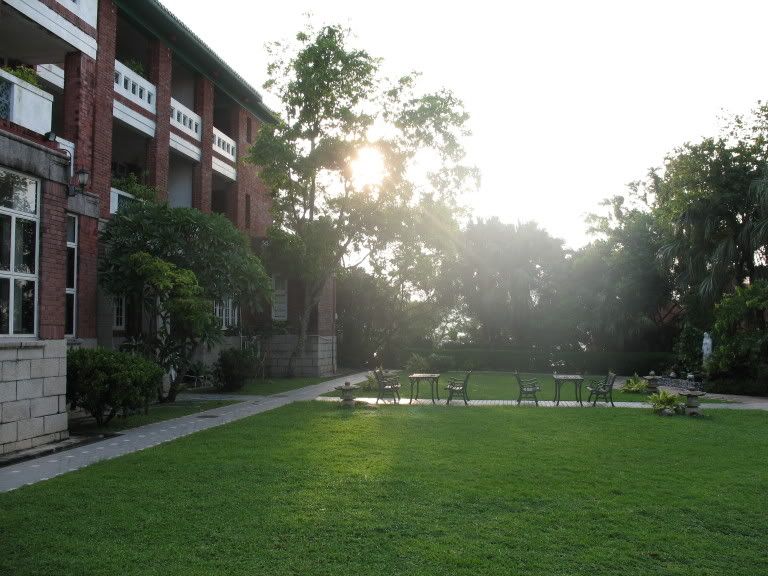 The Maryknoll House sits atop an impossibly steep hilltop, so steep that it's winding drive twists and turns on the massive cement pillars usually reserved for large-scale construction projects. At the top of the hill, the gate opens in to a wonderful, quiet property that contains, I am told, the best feng shui in all of Hong Kong: on top of a mountain, back to the sea (near water), facing another mountain. It's all very beautiful and serene, but living on top of that giant hill makes for some sweaty late-night walks home.
I arrived at Maryknoll house at seven in the morning, and everything just felt as if it were still asleep. I knocked on the front door, rang the bell, walked around the back, rang the bell again … nothing. I stood outside the door, the droll ringing of the bell echoing from inside, the soft gurgle of draining water somewhere out of site. Eventually, I walked back to the front door, and just went in. In short order, I was greeted by a fellow teacher (who was leaving in mere hours for his position on the mainland), introduced to Brother Charles Duffy, had a fantastic breakfast of bacon and eggs, cereal and toast, fresh fruit and skim milk … I was too tired to focus on the onslaught of generosity. I was told I could find my room on the second floor, and find it I (eventually) did:
When I found my room, Charles stopped by and mentioned that he was going into the city in about an hour, would I like to come? Sure, I replied, sitting on the bed as he closed the door behind him, and promptly fell asleep.
It was one of the most successful powernaps of all time. I awoke with the confusion of being out of place: what room is this? I've never slept in a room with the bed like, my room the bed is, what and where am I? Ah, Charles, he's come to take me into town. I collected myself, got camera and cash ready, walked down stairs (only then begging to feel the soil of wearing the same clothes for close to 48 hours), and before I could even think, I was riding on the disembodied top of a double-decker bus, navigating the impossible hairpin turns and narrow streets of Stanley and, soon enough, Hong Kong proper.
On the bus, I was able to meet Nicki and Mike, two fellow teachers who had just arrived in Hong Kong the previous evening. Nicki would be going to Zhanjiang as well, while Mike would be teaching in Chongqing. They would be my accidental guides for the day, as I was too out of it to glean anything useful from the maps we had stuffed in our pockets. We left the bus in central Hong Kong, where Nicki, Mike, and I parted ways with Charles. And then we simply walked: we followed Hollywood, a (fairly) major road that ran the length of the island, and tried to get nice and lost.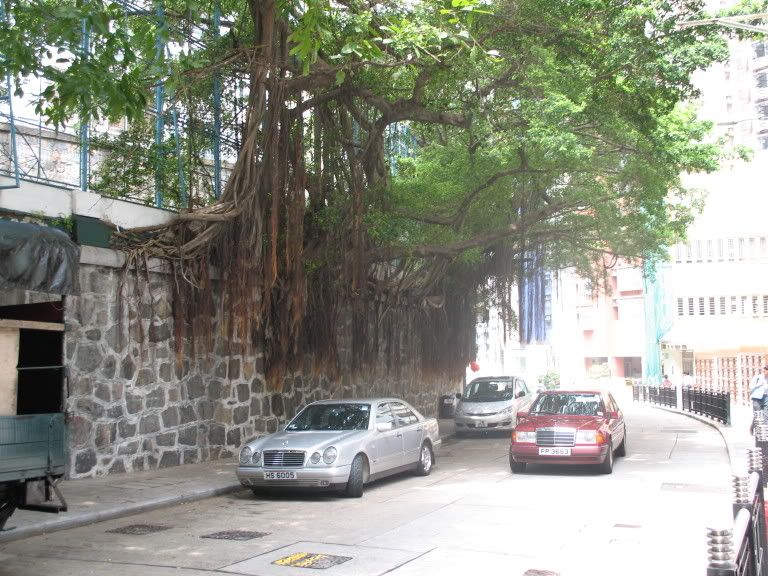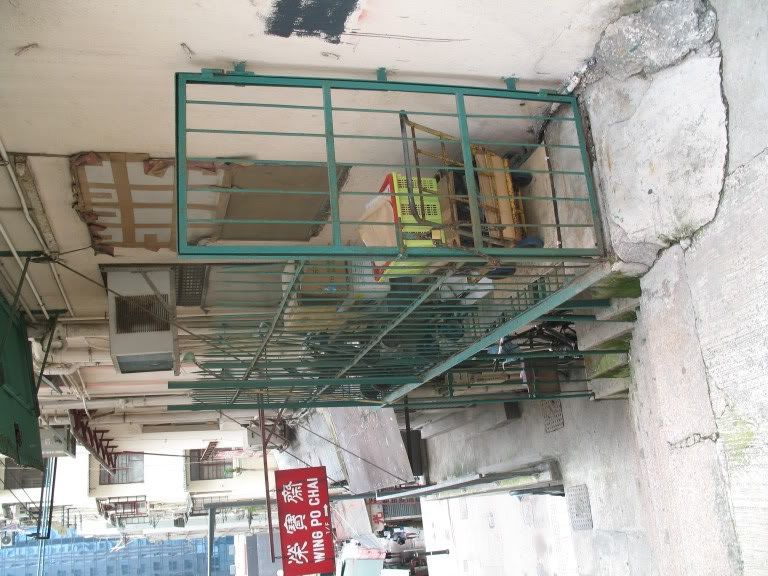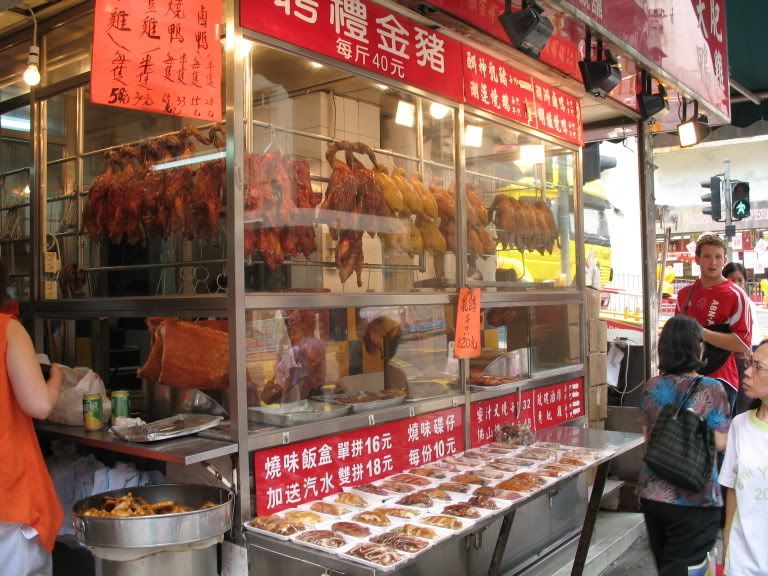 And we did. We spent hours following the scrambled back roads and serpentine alleyways, just walking, taking in the open-air meat markets, the shops of indecipherable purpose, the impossible vegetation, the ancient temples that stand alongside ridiculously new high rises. The smells were simply amazing: restaurants, bakeries, fruit stands, butcher shops. Grocery shopping in Hong Kong would tackle all of your senses. The smells in the supermarkets back at home seem to reek of cleanliness, of sterilization and sanitation, like shopping for food on a space shuttle, the only sounds the quiet murmur of people shopping, the abrasive invasion of ads and commercials. In Hong Kong, the air was bursting with sights and smells and bargaining and noise and life.
We were looking for the Man Mo temple, and after orbiting it for blocks, endless u-turns and backtracking, we decided to give up, shrugged, turned, and were right in front of it. We had passed it, but in the canyons of the city, a small green-roofed one-story temple simple doesn't catch your eye. We walked in, and the soothing fragrance of burning incense wafted toward us. We looked in each section of the temple – one was a small, quiet area where plaques could be purchased for loved ones (or, I assume, the deceased); a central room where giant statues were prayed to through choking clouds of scented smoke; and a third room, giant burning spirals of incense slowly burning away, crowds lighting finger-thick stalks of incense and placing them in jars of sand amid more giant figures (both historical and mystical), women rubbing the tall candle sticks while deep in prayer. I think the video can do a better job of describing it than I can.
We eventually made our way to the campus of Hong Kong University, for a tour scheduled for two that afternoon. We spent a good deal of time and effort climbing the slopes of the city just to get to the University, and then an even greater deal of effort scouring the campus for the damn tour. And once we found the tour, we got the chance to expend yet even more effort in taking it. So it goes; the campus was interesting, and in waiting for the tour, I caught a great poetry/wall scroll exhibit in the university art museum. Here are a few pictures of around campus.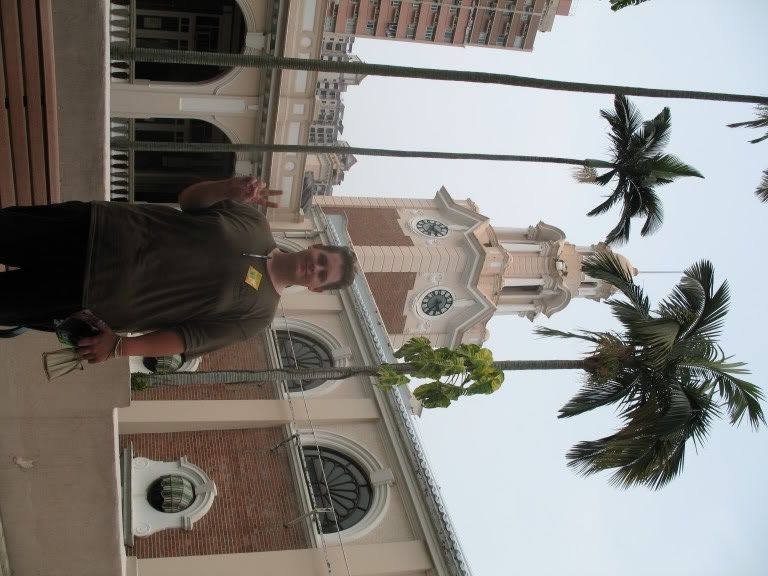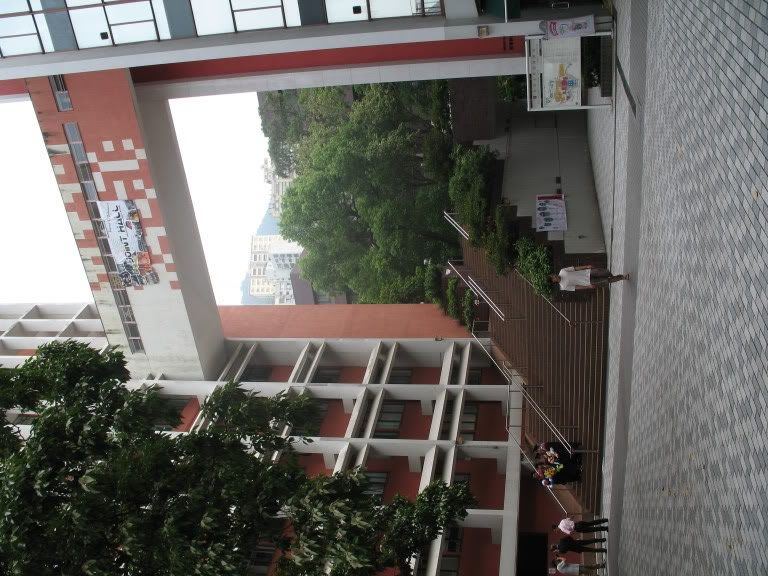 After the tour, we took a much-appreciated break at the campus Starbucks. The first, and hopefully only, time that I will ever willfully purchase a Starbucks product; $30HK for an iced coffee, I mean, damn! From campus we went to lunch, at the best dumpling (shui jiao/water pocket) house in the city, Beijing Shui Jiao Wong. Thanks to Lonely Planet for their excellent guide of China, with an especially meaty section on Hong Kong. Hey, need any writers?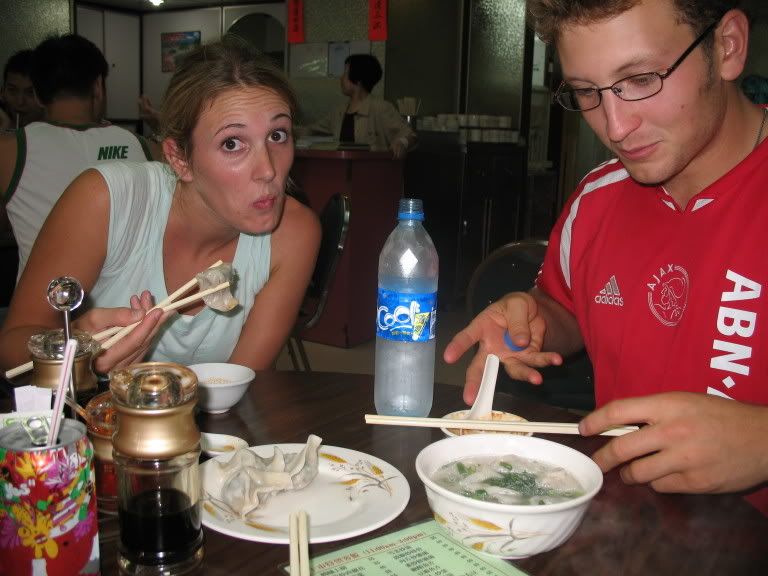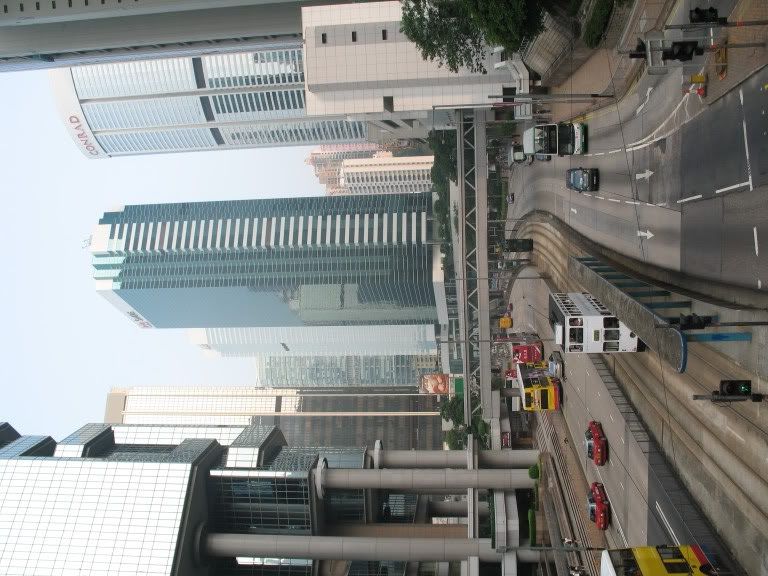 From lunch we walked: through a huge open park that muted the noise from the city, then on to the (free) Hong Kong Zoo, which was nice, clean, relaxing, and calming, but nothing too special. By the time we made it to the zoo, we had been walking since nine that morning, and we found the perfect set of benches (surrounded by flowers, grass, and a massive water fountain) to pause and relax. The narrator is here running out of gas and just wants to get this damn thing finished, so please watch this video and let's move on.
Finally, Nicki, Mike and I met up with James, a fellow Maryknoller, to take a trolley up to "The Peak," a HK$30 ride up to a big mall that had a great view of the entire city's skyline. None of the pictures really came out – I'm still new to my camera (a Canon PowerShot A620, a fantastic camera that I can't thank my family enough for), I couldn't get the exposure right, and the "night shot" setting was worthless – but there's a spiffy video of the view. And what luck! It's right here!
Back down in central Hong Kong, we stopped at a little noodle shop, one of many "greasy spoons" of Hong Kong, if you will. We had some great chicken curry and fried beef (surprise!) noodles, but by this time, I was totally spent. As you can likely tell: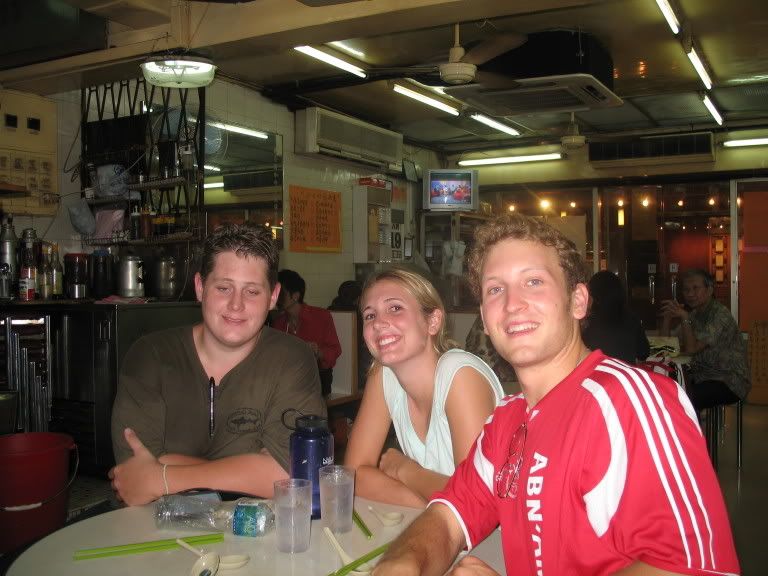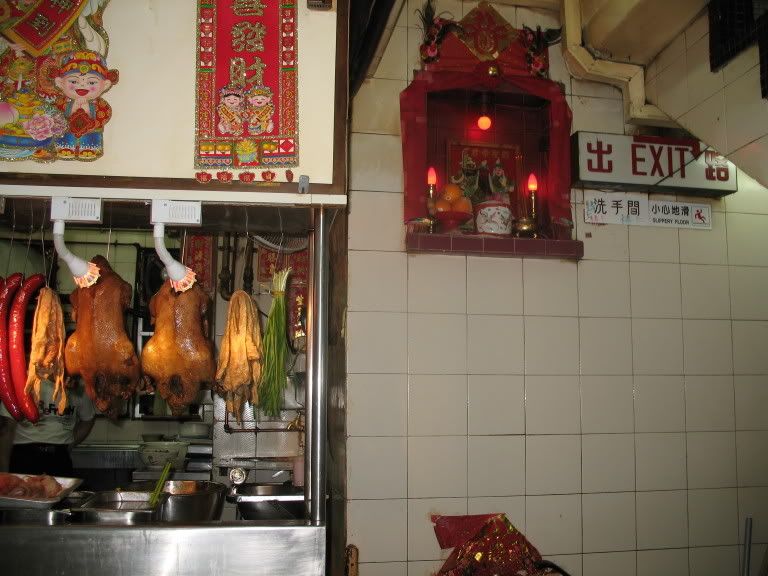 The next hour was a blur as a bunch of Hong Kong rookies blundered their way through town, hoping to find a bus back to Stanley. We found one (eventually), got off at the wrong stop, walked a mile through a closed open-air shopping plaza in the wrong direction, re-directed ourselves, found the entrance, climbed that big damn Maryknoll hill, and were finally home (but only thanks to Nicki, who had to break in through an open window to let us in … none of us knew where the spare key was, and all others in the house were well asleep).
One of my bags had made it, delivered to the house free of charge by the good folks at Cathay Pacific. And did I ever need it: drenched in sweat, all of an hour's sleep in the last 52 hours, an entire day walking through the hot, humid streets of Hong Kong. But it was so worth it: it was a fantastic day, I was able to get to know Nicki and Mike and James, and it was a great beginning to what should be a great year.